Michael Roman: 5 Things You Don't Know About Me
Michael Roman looks like a top and fucks like a bottom. But when did he lose his man-to-man cherry? What makes him lose his load? Why does he look the dominant one in every picture?
Some guys work at gay porn for years and fly but still fly under the radar. Others, make a big impact in a much shorter period of time.
Michael Roman is one of those who took the express the train to the top – or bottom as is often the case.
But despite his relatively brief tenure in GayPornLand, he has quite a story to tell.
Which makes him the perfect subject for this week's edition of our exclusive series, "5 Things You Don't Know About Me".
A stop at The Sword's Pornback Machine™ doesn't go back very far in years but it's clear regardless: once a stud, always a stud. Though in the past year, Michael has gotten his brooding stare down to a pants-dropping science.

Michael's first appearance on the blue screen was for Str8chaser by Reality Dudes while his first studio production was with Ace Era and Bulrog for Lucas Entertainment. Since then, our very busy man has also filmed for IconMale, Bromo, Men.com, MenOver30, Hot House, Raging Stallion, Raw Castings, and NakedSword Originals.
Michael is an Ohio born Leo who won a 2018 GayVN Award for Best Bear Scene along with Daymin Voss & Fernando Del Rio for "Beards, Bulges & Ballsacks" from Raging Stallion.
5 Things You Don't Know About Me: Michael Roman
1) I love my job and I love sex but nothing turns me on and makes me cum faster than a guy with somewhat smelly, hairy armpits. When I'm filming, if they need me to cum, we just get the guy with the hairiest armpits, bury my face in his pits and I cum almost instantaneously.
2)
When I take pictures with people at bars or other porn stars on set I always stand on my tippy toes to assert my dominance and make them look smaller than they actually are and make myself look bigger 😬 Feet are rarely shown in pictures so no one can tell hahaha
3) I have a genetic eye condition called nystagmus which causes my eyes to spasm back and forth. Everyone assumes I'm on drugs because of it. It's also a sign of a drunk driver so every time I get pulled over (which happens often because I drive a red two-seater 370z), the cops think I'm drunk and make me do field sobriety tests. That's actually ironic because when I am drunk, my eye spasms actually stop because my muscles are relaxed.
4) When I was 22 I had sex with a guy for the first time when I ditched my friends in Vegas and snuck off to the gay bar that used to be on the strip in the Aladdin Hotel. I was so curious and so horny that I walked into the bar and left with the first guy who talked to me. He was 15 years older me and to this day, he had the biggest dick I've ever taken. I was wasted and cried the entire time! I didn't have sex with a guy again until I was 25. 😂
5) I did my first live show ever at Fire Island last year and I had never been before. So I landed at JFK and had no idea how to get there. So I jumped in an Uber. It came to $200 and he dropped me off on the opposite end of the island. I figured I could walk to where I needed to be. WRONG!
I walked 4 miles to the first town. No hotels, no gays on Grindr and I had no money to get a boat off. So I walked to the next town 3 more miles. It's now almost midnight. All the bars are closed, still no gays on Grindr. So I walk to get to Cherry Grove, where all the gays are. It's another 4 miles walk. Keep in mind I have a suitcase. I'm about halfway there and I get attacked by a swarm of mosquitos. I ran for shelter. I found a public bathroom near the beach. My clothes are filled with mosquitos. I take all my close off and jump in the shower.
I am covered in thousands of bites. I'm swelling up have no clue where I am so I call 911. They had to use GPS to track my phone to find me. The police arrive and think I'm on drugs, then they see the bites all over my body. They rush me to a boat and I spend the whole night in the ER. The next night at my live show I was covered in thousands of mosquito bites. I've never felt so disgusting. Hahaha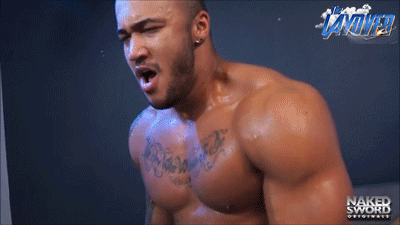 If I were to write my autobiography up to this point, the title would be …
The title of my memoirs thus far would be "The Rise and Fall of the Roman Empire" and the chapter about my adult career would be called: "The Beginning of the End".

If someone could only see one of my scenes, I would tell them to watch: "The scene I did for Lucas Entertainment with Dylan James because it's probably the favorite I've done and has yet to be released, so keep an eye out for that one. But as for scenes already out there, it would be when I flipped with Sean Duran at RawFuckClub …
[Watch Michael & Sean Duran in "Michael Roman & Sean Duran Flip Fuck and Breed" at RawFuckClub]


The Sword would very much like to thank Michael for his time.
In addition to Dante Colle, Sean Duran, Beaux Banks, Gabriel Cross, Pierce Paris, Logan Moore, Skyy Knox, Michael Del Ray, Johnny V, Eddy CeeTee, & Michael Roman we've already gotten to know better, there's plenty more in the pipeline where this came from.
You know what that means … watch this blog!


You know what that means … watch this blog!


← The original Gay Porn Blog! Gay porn news, porn star interviews, free hardcore videos, and the hottest gay porn on the web. home