Michael Del Ray: 5 Things You Don't Know About Me:
There's plenty you don't know about Michael Del Ray. What TV series reduces him to tears? How did his dick get him in trouble on the playground? What spit-roasting session still makes him hard just thinking about it?
We know Michael Del Ray as a top. We know Michael Del Ray as a bottom. And we know he can flip.
Yes, that makes him versatile and with a versatility many think they have, but he truly does.
And as for the rest about Michael Del Ray, we're going to learn a lot more as today's subject in our exclusive series "5 Things You Don't Know About Me."
We had a chance to sit down with Michael in the flesh on the set of "No Vacancy" which will be coming this spring from NakedSword Originals. That is where the featured image at the top of this post came from,

In person, he's every bit as cute as you would expect. Ambitious, charming, and something he doesn't speak about but I will: he's a wicked smart with a plan for everything.
Next, a stop at the The Sword's Pornback Machine™

Michael Del Ray's first scene was for NakedSword Originals when he was paired with FX Rios in "Hotel Hook-Up". Not that 2014 was that long ago, but long enough for us to see him go from twink to twunk. Since then, his filmography reads like a who's who in gay porn. In addition to NakedSword, Michael has been lensed CockyBoys, GuysInSweatPants, Men.com, MormonBoyz, NextDoorStudios, and Falcon.
Michael is a Scorpio — his birthday is 11/5 and his motto is "I have a tendency to wear my mind on my sleeve". And indeed he does.
5 Things You Don't Know About Me: Michael Del Ray
1) I was adopted at a young age by a single mom. She adopted 4 of us.
2) Two of my adopted siblings are black.
3) I was engaged at a young age and she passed away in a car accident.
4) I've cried to every single Grey's Anatomy season, and still re-watch the show all the time. (Finally getting sick of it so I started watching it in French).
5) At a young age I would make friends on the playground by showing other kids my junk. My mom would have to put me in overalls and put them on backward so I couldn't take them off. Essentially I made friends with my dick. Apparently not much has changed!

If I were to write my autobiography up to this point, the title would be …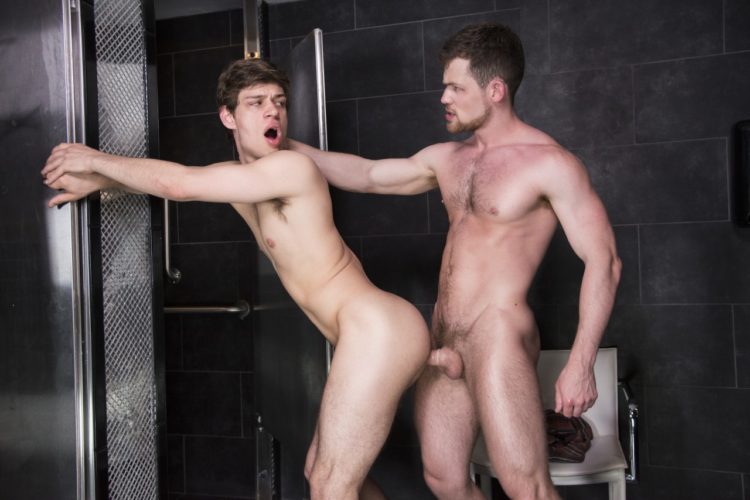 The title of my memoirs thus far would be "Autoeroticism At Its Finest" and the chapter about my adult career would be called: "Nailed It".

If someone could only see one of my scenes, I would tell them to watch: "My scene for NextDoorStudios where Mark Long and I run a train and make a lust tower with Quentin Gainz."
[Watch Quentin, Mark, & Michael in "Cocky Straight Boys" at NextDoorStudios]


The Sword would very much like to thank Michael for his time.
In addition to Dante Colle, Sean Duran, Beaux Banks, Gabriel Cross, Pierce Paris, Logan Moore, and Skyy Knox we've already gotten to know better, there's plenty more in the pipeline where this came from.
You know what that means … watch this blog!


← The original Gay Porn Blog! Gay porn news, porn star interviews, free hardcore videos, and the hottest gay porn on the web. home