Sean Cody's Nixon's First Creampie … And Manny Helped
Creampie is off golden boy Nixon's bucket list. But will that be enough for those who think Nixon should hang it up as a top at Sean Cody and get those legs back in the air?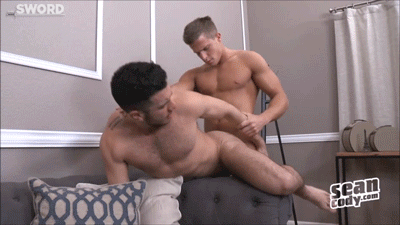 Yack yack then to the living room and into a heavy kiss. Nixon loves to kiss. Manny likes it. He likes sucking Nixon even more. He's throbbing hard, bends Manny over the couch and goes right inside. Onto to riding where he fucks a nut out Manny then soaks his hole. Manny takes a couple of victory laps with his ass then ATM's that dick.
Another lip lock, this time in the bedroom, begins round two. Both our guys have gone from warmed up to horned up and we get right to it. Manny's on his back when Nixon's flips him into doggie. The view speaks for itself.
For those that want Nixon to bottom again for a scene centered on this ass: hell fucking yes. And yes, it's high time for him to expand his oral repertoire from just kissing. The key to casting Nixon as a top is pairing him a with bottom into kissing. That's what transform Nixon from fucking machine to a fucking hot machine. Yes, Sean Cody, I am talking to you.
Now, with Manny on his back, Nixon rabbit-jabs a real gusher out of Manny and the timer goes off. "Fuck yeah, breed me" Manny says with their sweaty foreheads pressed together. Take a glance down to Nixon the minute he pulled that creampie out of the oven. Anybody have a sweet tooth?
[Watch
"Manny & Nixon: Bareback"
at Sean Cody] [
Check out the full review and watch the trailer at The Sword
]
Tags: bareback, creampies, sean cody, Sean Cody Manny, Sean Cody Nixon
← The original Gay Porn Blog! Gay porn news, porn star interviews, free hardcore videos, and the hottest gay porn on the web. home