First The Streets, Then The Sex Club
They want in. But are Griffin Barrows, Rod Peterson, & Connor Patricks willing to go far enough to prove themselves to Trenton Ducati and Ryan Rose?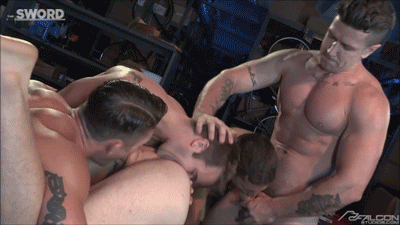 The deft hand of director Tony Dimarco makes for not just another "gay porn orgy." Today has the kind of sexual choreography of five men who are engaged and connecting with each — and as a group — at the same time. All the time. No one is scenery. No one is left out. Including us.
In rotating, side-by-side pairings of twos and threes, tag teams orally service the initiates' holes and the cocks' of the leaders.
Of course, Trenton and Ryan have plenty of dick to go around. They are not about their versatility today. They are about the holes of Griffin, Rod, and Connor.
Connor is the first to cum, shooting across Griffin's torso then Rod busts on Griffin's pecs. Ryan sets his sight on lets Griffin's lips and douses them while Griffin dumps his load onto his stomach with Trenton still inside him. Trenton strokes out his nut and throws the chip in the middle of the four loads covering Griffin. In other words, "welcome to the fucking club!"
[Watch
Griffin, Connor, Rod, Ryan & Trenton in "Urban Spokes"
scene four] [
Check out the full review and watch the trailer at The Sword
]
Tags: Connor Patricks, Falcon, Griffin Barrows, Rod Pederson, Ryan Rose, Tony DiMarco, Trenton Ducati, Urban Spokes
← The original Gay Porn Blog! Gay porn news, porn star interviews, free hardcore videos, and the hottest gay porn on the web. home