Get Your Sneak Peek: "Paris Perfect"
Filmed on location in the city of lights. A cast of international of gay porn superstars. An original script. And told through the eyes of NakedSword Originals. "Paris Perfect" is the ultimate holiday gift for both of your heads.
"Paris Perfect" is anything but just another blue screen release.
It's that rare sexual spectacle that transcends the boundaries of traditional porn by making your cock hard while other times, making you laugh even harder.
The plot is a modernization of the classic French farce. This time told in an epic tale of love and lust that spans two continents and was so compelling even on paper, it lured Francois Sagat back to the screen for only the second time in last five years.
Francois is not alone. Also making "Paris Perfect" perfect are global band of the blue screens' best
Trenton Ducati and Colton Grey in Scene One: "Blindsided"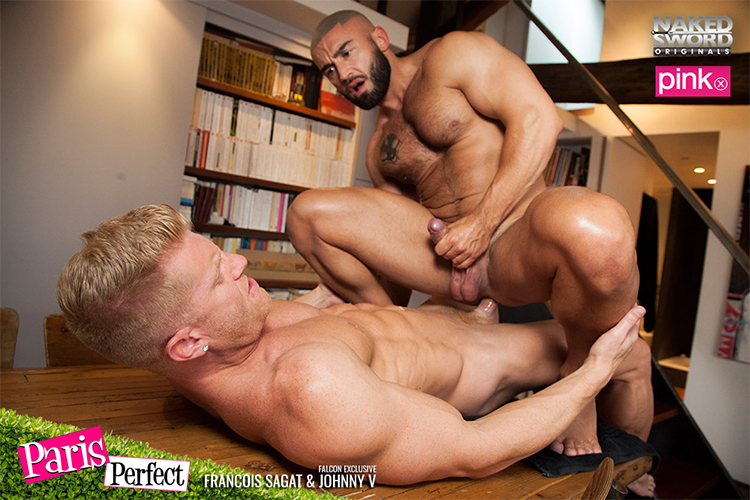 Francois Sagat and Johnny V in Scene Two: "An American in Francois"
Theo Ford & Dani Robles in Scene Three: "Buying Time"
Gabriel Cross & Colton Grey in Scene Four: "Grudge Fuck"
Colton Grey, Theo Ford, Johnny V, Dani Robles, and Denis Vegas in Scene Five "International Gang Bang"

And when you add them all together …
"Adorable Colton Grey and his sexy sidekick Johnny V. take off on a trip to Paris that turns into the adventure of a lifetime. A case of mistaken identity whisks the young Americans off to a gorgeous penthouse and thrusts them into a series of misadventures involving a horny French butler, a stolen iPhone, two Spanish hitmen, a British grudge fuck, and an international adult Superstar. In the end, debts are paid, everyone gets laid and dreams are made in "Paris Perfect".

[
Preview "Paris Perfect" at NakedSword
and grab some desktop and mobile wallpaper while you are there]
We'll be back next week with an exclusive, elusive interview and of course, the big premiere on Wednesday that also reveals a surprise appearance by yet another superstar. And yes indeed, like everything about
"Paris Perfect"
, "reveal" is the operative word.
Watch this blog and à Mercredi for now.
Tags: Colton Grey, Dani Robles, Denis Vega, Francois Sagat, Gabriel Cross, Johnny V, NakedSword Orignals, Paris Perfect, theo ford, Trenton Ductai
← The original Gay Porn Blog! Gay porn news, porn star interviews, free hardcore videos, and the hottest gay porn on the web. home