Jacob Peterson Is Michael Del Ray's Fantasy Island
Jacob Peterson is the one blond on the estate who isn't off limits. And when he and Michael get together, the chemistry between them was limitless.
For the chosen few in "The Chosen Few" from NakedSword Originals, a life of luxury comes with only one rule: keeps your hands and all other body parts away from Logan Moore's houseboy, Falcon Studios Group exclusive Alum Wernik.
Dante Colle broke that rule in the first scene. Then last week, Logan made him pay the price.
This time around, Michael Del Ray's sights are set on the golden tresses of Jacob Peterson and the only breaking will not be of the rules, but into Jacob's ass.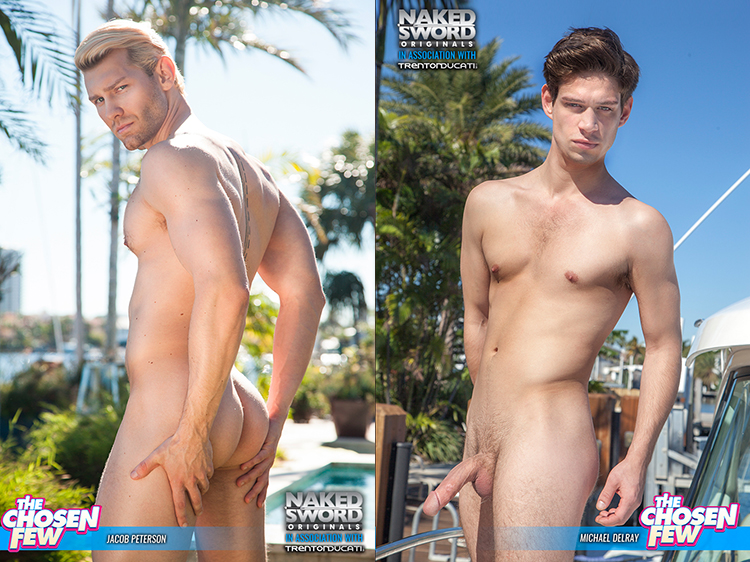 With his luxurious pate of chest hair, big uncut dick, and oh-so-fuckable ass, Jacob Peterson is red hot bottom having "blonds have more fun phase." Today, Michael Del Ray is going to make that a very true statement.
"Being part of "The Chosen Few is a fantasy come true, but between the private yacht, the luxurious home, and stunning men, Michael Del Ray can hardly believe any of it is real. That's why when he catches a glimpse of a handsome, half-naked Jacob Peterson he wonders if he's hallucinating."
An extended lip lock mingles with an oral fest where Jacob can't stop arching his back and touching his ass in anticipation of what's coming next. He and Michael are on the same page when it comes to that: this twosome is DTF in a big way.
Michael pulls his cock out of Jacob's mouth, flips him over, and slides in balls deep. He first goes in for a round of quick rabbit jabs before adjusting his position for some almost until the tip comes out, deep and deliberate long dicking.
Michael flips Jacob over for a quick smooch then Michael flips himself around for something rarely seen, bed top piledriver done in reverse.
Michael's pounding finds a new stride in missionary and Jacob's load makes its exit all over his hairy abs. Michael bends down, licks up every drop and using it now for lube, spits Jacob's load onto his dick and jacks out a six-rip blast on Jacob's furry pecs. He slurps then swallows then feeds Jacob the stragglers in a scene ending kiss.
[Watch Jacob & Michael in "The Chosen Few" scene three: Fantasy Island" at NakedSword]

It gets better. You will be able to watch "The Chosen Few" and have full, instant access to the over 20,000 plus scenes at the "Netflix of Gay Porn," NakedSword, at the lowest price available anywhere.

In an offer exclusive to GayPornBlog & The Sword, you can see it all for $4.95.
Tags: Jacob Peterson, Michael Del Ray, NakedSword Originals, The Chosen Few, TrentonDucati.com
← The original Gay Porn Blog! Gay porn news, porn star interviews, free hardcore videos, and the hottest gay porn on the web. home