Splitting Their Differences
Leo Forte & Timarrie Baker are campus rivals who agree on nothing. But ultimately it was Timarrie's big dick that led them to split their differences right along with Leo's hole.
"Berkeley 2: Sophomore Year" from NakedSword Originals premiered last week with the promise that "stricter professors, stronger politics, and rougher sex" would rule the days.
Wesley Woods and Timothy Drake explored just how much stricter the professors are this year.
Today, it's Leo Forte and Timarrie Baker who bring on the stronger politics.
They also bring on even stronger sex as these rivals learn that burying the hatchet sometimes starts with lowering your guard — and dropping your pants.
"Berkeley Republican Club President Leo Forte to cancel the appearance of a controversial right-wing talking head (cameo by Theo Ford) leaving Leo to address the crowd himself. Democratic Party Club President Timarrie Baker stops by Leo's dorm room. The two hot-headed student leaders begin sparring and it soon becomes clear they have more in common than politics. They share a love that crosses party lines."
"Shirts fly off to reveal chiseled torsos as they kiss and strip out of their jeans. Timarrie gets a good taste of Leo's cock before bending him over and fucking him harder than the Republican Party is fucking over America. Leo blows his load and eats it while Timarrie pulls out and jerks off all over his rival's face. Maybe love really does trump hate."
After a round of dueling deep throat, Leo can't resist those tasty cakes of Timarrie. When the spittle travels from his mouth to his dick, yes, it is to lube it up. But not for fucking: it's so Leo can jack his cock as Timarrie eats his hole into submission.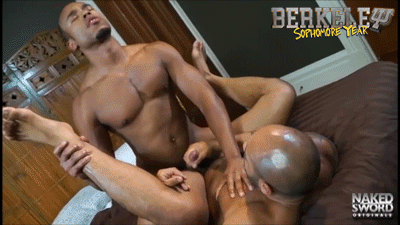 Lubed pole and hole, Timarrie buries his dick until his short and curlies are tickling's Leo's hole. Just watch Leo's eyes when Timarrie goes from missionary to twisted side scissors — and Timarrie's dick goes in even deeper.
As they flip to missionary, Timarrie varies his speed but his anal assault of Leo remains both nonstop and relentless.
The pressure from the pounding ultimately makes Leo lose his load. He scoops up his own batter then snowballs it with Timarrie. Now ready for his blast, Timarrie straddles Leo's face and unleashes a heavy cum rip. What doesn't go down Leo's throat spatters across Leo's face and chin. And a final kiss cleans the mess — and ends the feud.
[
Watch Leo & Timarrie in "Berkeley 2: Sophomore Year" scene two "Crossing Party Lines" at NakedSword
]
It gets better. You can watch "Making Rent" and have full, instant access to the over 20,000 plus scenes at the "Netflix of Gay Porn," NakedSword, at the lowest price available anywhere.

In an offer exclusive to The Sword, you can see it all for $4.95.
Tags: Berkeley 2 Sophomore Year, Leo Forte, NakedSword Originals, Tinmarie Baker
← The original Gay Porn Blog! Gay porn news, porn star interviews, free hardcore videos, and the hottest gay porn on the web. home