It Ain't Cherry Blosson Time No More
Alam Wernik is definitely having a moment. But unless you're a patron of his social media, you've never seen him get fucked before. Arad Winwin will be the first to tell you, this was worth waiting for.
"The Chosen Few" from NakedSword Originals in association with TrentonDucati.com has been the vehicle that allowed Alam Wernik to go from a social media savant to bona fide porn star.
When we visited the set of "The Chosen Few", Alam shared with me that not only is this his first feature as a Falcon Studios Group exclusive, it is his first "real" movie.
And though we saw him trade hummers with Dante Colle in the opening, today's fuck with Arad was the very first studio scene of any kind he ever filmed.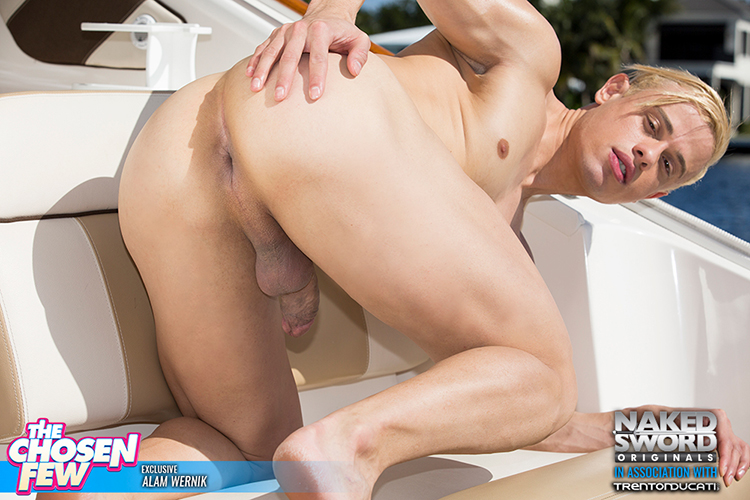 "I was scared at first, but this has been an amazing experience," Alam Wernik told The Sword. "Everyone made me feel so comfortable, it allows for me to be complete and to fully develop and express my sexuality."
It took Arad Winwin one and one-half years to leave his native Iran and make it to Turkey. After a few years in Turkey, he finally made it to America with $30 to his name. Porn was something he wanted to do. And today, Alam's camera cherry also had his name on it.
"Alam Wernik is up to his tricks again, this time luring beefy, stoic security guard Arad Winwin out to Logan Moore's yacht, the "No Vacancy." Arad knows he may lose his job but there's no way he can resist Alam and those angelic good looks, smooth, muscled body, big juicy ass and thick cock."
Arad's top-only status is not likely to change soon. Not that there were any complaints from Alam about that. But like the generous top he his, Arad's oral game is top notch and one he's not afraid to let it show.
Yes, Alam. This is how to make an entrance.
As much as the passion burned supernova bright between these two, so did the primal energy.
Arad flipped Alam on his back, stroked and pounded him until Alum took over and jacked out a high flying load. When it was Arad's turn, he knew exactly the target he wanted. It was a sizeable nut … but nothing Alam couldn't make go away with his tongue. After all, he's not one of "The Chosen Few" for nothing.
[Watch Alam & Arad in "The Chosen Few" scene four: Rock The Boat" at NakedSword]

It gets better. You will be able to watch "The Chosen Few" and have full, instant access to the over 20,000 plus scenes at the "Netflix of Gay Porn," NakedSword, at the lowest price available anywhere.

In an offer exclusive to The Sword, you can see it all for $4.95.
Tags: Alam Wernik, Arad Winwin, The Chosen Few, TrentonDucati.com
← The original Gay Porn Blog! Gay porn news, porn star interviews, free hardcore videos, and the hottest gay porn on the web. home