Is "Jack & Daniel: Bareback" One Of The Scenes Of The Year?
When Daniel says to Jack at the end of their Sean Cody scene, "You started today as a little bitch & ended up as my cum dumpster," he's not exaggerating.
The intro is worth watching and then right to the living room and right to business. Daniel is bossing Jack around like Jack's a sex pup and Jack practically barks in obedience. It's a bit exaggerated as if they are both auditioning for this scene and the casting director is up in the nosebleed seats. But that can be cured with the mute button. Plus, that's about to change.
The sucking leads to an ATM which leads to doggie. The audition is officially over when they move to the coffee table. Daniel plows away, stopping to spin Jack around for an ATM before spinning him back, resuming the position and causing Jack to cover his abs in his first load. Then it's Jack turn. Brace yourselves.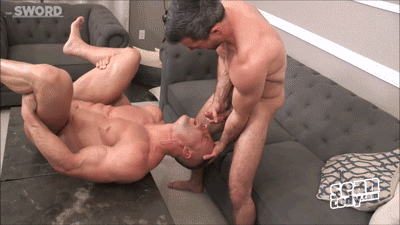 Jack pulls out and soaks Jack's balls with a few rapid-fire heavy pumps. Holding the head of his cock with one hand, Daniel spins Jack around again and lets loose a squadron of super-soak jets that first completely clear Jack and the table, before the rest leave Jack with an "eyes wide shut" face full.
Does he spin Jack around again, load his hole, feed him some of his jizz then dive down for a kiss? Damn right he does.
Round one ends with Mr. Cameraman asking Daniel what he wants Jack to do next. We get the answer in round two (watch this artful transition) followed by the visual: hummer time.
Blowing becomes rimming. Rimming becomes missionary. And missionary becomes pile driver. Jack covers his abs and upper pecs with his second load. Daniel is right behind and once again, Jack takes it on the chin. And chest. And stomach. And that, guys, is no exaggeration.
[Watch "Jack & Daniel: Bareback" at Sean Cody]
[
See the full review and watch the trailer at The Sword
]
Tags: bareback, sean cody, Sean Cody Daniel, Sean Cody Jack
← The original Gay Porn Blog! Gay porn news, porn star interviews, free hardcore videos, and the hottest gay porn on the web. home