Sean Cody's Best Scene Of The Summer?
What happens when you mix two hairy men with action hero bodies, wet dream asses, big dicks — and then film it properly? We get one of the best Sean Cody scenes of the summer.
Like our patience, the body trimmers also got a reprieve today. Halleluiah! A lip lock leads to a slurp session for Shaw on Landon's cock. After a test ride on that hard pole, they move to the bed where Landon makes apple pie out of Shaw's apple butt.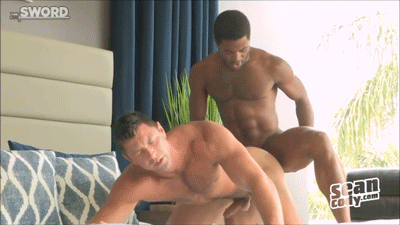 Yes. That is Shaw's engorged curved honker of a cock thwapping back and forth like a pendulum in pleasure. Landon dicks him deep and non-stop. If you miss that because you can't take your eyes off Landon's glutes in action, rewind and watch it again. The fast forward button also gets to take a rest today.
Landon flips Shaw on his back and it's missionary on to cum land. Shaw explodes like a broken pipeline all over himself and then Landon takes his turn right after. No edit needed this time. Shaw is like a landing field of jizz as Landon loads him home and ends this round how it started: with another lip lock.
Round two begins with Shaw ass up from the floor and Landon face down on the bed: it's apple blossom as Landon makes a meal out of Shaw's hole like it's an all he can eat buffet. But once again, the curves of Landon's ass and the sinewy muscles of his back almost steal the show. Yes. That ass being tapped again is number one of my future scene wish list too.
This was a perfect setup for the perfect run of pile driver that follows right down to Shaw's hands-free throbber. Then, the ultimate David & Goliath power move: Landon scoops up Shaw from the floor, pivots him around and tosses him on the bed as if that big man didn't outweigh him by twenty brawny pounds.
With Shaw's meaty leg hooked over Landon's shoulder, Landon powers another geyser out of Shaw. Considering how explosive his first shot was, he would be forgiven for firing blanks here. But it's a doozy. Then Landon gives Shaw's spent sack a heavy white blanket, loads that hole home, and their lips press together one final time. Life is booty full indeed.
[Watch "Shaw & Landon: Bareback" at Sean Cody]

[Read the full review & watch the trailer at The Sword]


Tags: bareback, sean cody, Sean Cody Landon, Sean Cody Shaw
← The original Gay Porn Blog! Gay porn news, porn star interviews, free hardcore videos, and the hottest gay porn on the web. home