They Call It "The Holy Land" For A Reason
Kayden Gray & Rocco Steele has been in Israel for a week. And though Ashley Ryder just arrived in Tel Aviv, he soon wound up with two of the biggest cocks in the world invading his ass.
It's only fitting that our final visit to the Holy Land in "Kiss And Tel Aviv" from NakedSword Originals involves two poles in one hole. And not just any pair of poles: between Kayden and Rocco, they are packing almost two feet of fat, uncut pipe.
And today, they had no problem packing that into Ashley Ryder.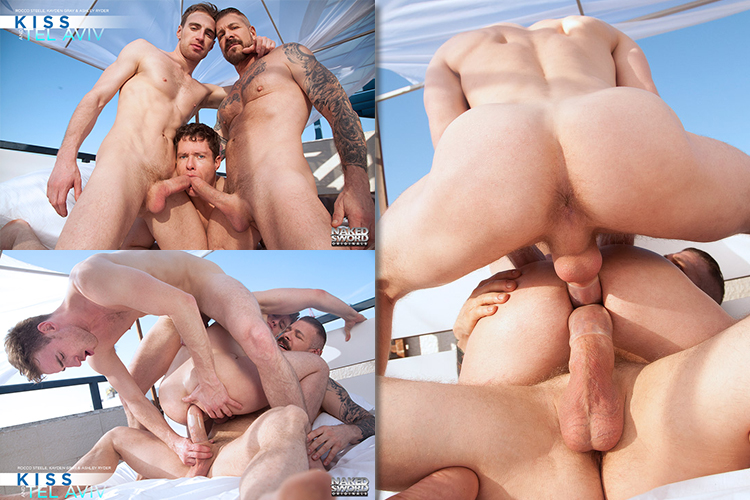 I'm sorry to see our adventure end. The opening scene of "Kiss And Tel Aviv" with Kayden and Ryan Rose is one of the most beautiful gay porn scenes ever filmed. Then, it was Josh Milk playing milkman to both sets of Ken Rodeo's blow-up doll lips. Last week, it was real-life boyfriends Massimo Piano and Klein Kerr inviting us into their primal, passionate love story. And today, it's Brit Ashley Ryder who takes the cake — and both the cocks.
Kosher or not, this is a real sausage party. As Ashley deepthroats Kayden, Kayden sucks Rocco. They tag team Ashley's mouth. Kayden and Ashley share Rocco's cock before Rocco shoves all his fingers insides Ashley's hole.
The fuck train begins as Ashley swallows Rocco cock, his ass inhales Kayden right down to the balls. They switch places and first Kayden guides Rocco's dick inside Ashely. They switch again and without so much as a warning, then, Rocco slips around and shoves his dick right in alongside Kayden's.
Even a power-bottom pig like Ashley isn't ready for all that cock, forcing Kayden to shove his face in a pillow to stifle his screams.
This world-class DP goes on in three different positions until the sun starts to set, bathing all three sex fiends in the golden light of setting sun and three massive rips of cum.
[Watch Ashley, Kayden, & Rocco in "DP'd in Tel Aviv", scene four from "Kiss And Tev Aviv" at NakedSword]


Get out your passport and "Kiss And Tel Aviv"


Scene one: Ryan Rose & Kayden Gray in "Cock by the Ocean"
[The GPBlog review] [Watch at NakedSword]
Scene two: Ken Rodeo and Josh Milk in "Intimate in Israel"
[The GPBlog review] [Watch at NakedSword]
Scene three: Massimo Piano & Klein Kerr in "Rooftop Romance"
[The GPBlog review] [Watch at NakedSword]
Tags: Ashley Ryder, Double Penetration, Kayden Gray, Kiss And Tel Aviv, NakedSword Originals, Rocco Steele
← The original Gay Porn Blog! Gay porn news, porn star interviews, free hardcore videos, and the hottest gay porn on the web. home