"Earthbound – Heaven to Hell" Has A Stark Reality
The return of Andrew Stark is a fact. Another is that "Earthbound – Heaven to Hell 2" has shattered the former limitations of the blue screen by mixing the worlds of film and porn as never before.
From the very first frame in the lair of Devil (Dean Monroe), "Earthbound – Heaven to Hell 2" is not only mixing the worlds of film and porn, it's mixing the worlds of heaven and hell.
The Devil and his rival, Lord (Andrew Stark), are each fighting battles in their own realms. They have no tolerance for betrayal. And nothing goes unavenged.
Picking up twelve years from the Falcon original "Heaven To Hell", director Chi Chi LaRue has reimagined the original blockbuster into another. Substance and style merge effortlessly. Tats replace horns. And brilliant performances that advance the story line often replace the spoken word with intent communicated by riveting sexual intensity.
Also replaced is a scene description with some real acting. The performances extracted by Chi Chi have all the nuances of character development. It's not just what they are doing, but why. And all that channels into who they are doing, and how. It all begins today with Andrew Stark and Trelino.
Someone has sold out Lord (Andrew). Trelino's character is called "Snitch" for a reason. But no one snitches and gets away with it here. Lord (Andrew) employs some enhanced interrogation tactics to get Snitch (Trelino) talking.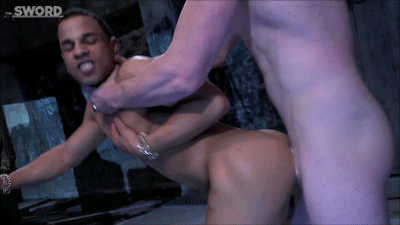 When rimming his ass and stuffing his throat don't elicit the desired results, Lord (Andrew) turns the interrogation into a sexual grudge match that tests Snitch's limits by showing that Lord has no such boundaries.
The return of Andrew Stark and his mastery of what he does is a sight to behold. Both he and Trelino manage to both stay in character while turning in a sexual tour de force simultaneously.
Lord's non-stop pounding make Snitch blow his load across his abs. The Lord towers over Snitch and extracts his vengeance all over Snitch's face. Meanwhile, in the lair of Devil …
[Watch Trelino & Andrew Stark in "Earthbound – Heaven to Hell 2" scene one at Falcon]
Tags: Andrew Stark, Chi Chi LaRue, Earthbound: Heaven to Hell 2, Falcon, Trelino
← The original Gay Porn Blog! Gay porn news, porn star interviews, free hardcore videos, and the hottest gay porn on the web. home