Alex Mecum Is Eddy CeeTee's Cum Catcher
Taxes are hard but Alex Mecum and Eddy CeeTee are harder. Especially after a round of footsie later turns Alex's tongue into Eddy's landing field.
The latest from "TaXXX" from TitanMen shows the truth: we'll employ any reason to put completing those damn 1040's.
Today, Eddy CeeTee has another truth for Alex Mecum: he has a foot fetish.
And I have a truth for you as well: no, these two hairy studs don't get their taxes done. They have something more important: real on-screen chemistry.
It was the Halloween before last when Bruce Beckham plucked Eddy's digital cherry. It's good to have him back. Between Eddy and Alex, there's an abundance of prime sexual real estate front to back, head to toe. Head to toe is not just a catchphrase. There's plenty of both head and toe. And even a catch that cums at the end.
To each their own, but when presented with Alex's ass or his feet, I would opt to motorboard that hole.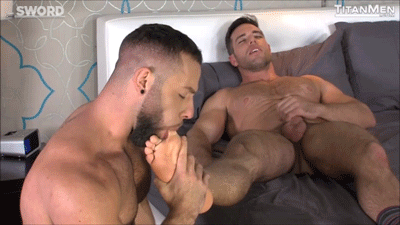 But considering the effect the "nice and sweaty" digits had on each other, reflexology might have other benefits they never discussed in the brochure.
Eddy climbs on and starts ramming. Alex gripping the sheets while his cock drools all over them.
Eddy jacks a big load out of Alex as he fucks him, then unleashes his own airborne nut. "I caught some of that," says Alex. And when they kiss, Eddy gets in his licks too. Taxes aren't done, but at least the men are fed.
[Watch Alex & Eddy in "TaXXX" scene two at TitanMen]
[
Watch the full review and watch the trailer at The Sword
]
Tags: Alex Mecum, Eddy CeeTee, TaXXX, TitanMen
← The original Gay Porn Blog! Gay porn news, porn star interviews, free hardcore videos, and the hottest gay porn on the web. home