Welcome To Gay Porn Heaven
We hadn't seen them in years. Then one film brought Andrew Stark, Dean Monroe, Blake Riley, and Brad Patton back to the blue screen. It introduced Gabriel Alanzo. And then there are the headliners.
12 years ago, Falcon Studios released "Heaven To Hell", one of the most talked-about and successful gay porn movies of all time.
This epic story of good versus evil and of paradise lost and pleasure found finally continued in "Earthbound: Heaven to Hell 2" with Chi Chi Larue returning to the director's chair.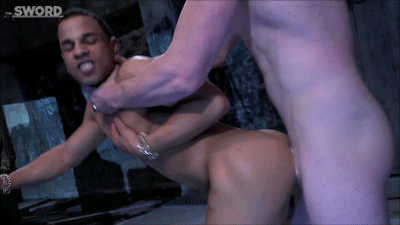 In the first scene, someone has sold out Lord (Andrew Stark). Trelino's character is called "Snitch" for a reason. But no one snitches and gets away with it here. Lord employs some enhanced interrogation tactics to get Snitch talking.
Then, the dirty angels; Sean Zevran, Arad Winwin, and Gabriel Alanzo, congregate together in a seething, writhing mass of bulging muscles, hard cocks, hungry holes, and open mouths all for the pleasure of their master, Devil (Dean Monroe). Last time, Lord giveth and taketh away. This time, Devil both gives and receives.
Next, Alleycat (Armond Rizzo) uses every one of his mastered techniques to render pleasure to his master, Lord Stark. Ultimately, Lord pounds a high-flying load out of him. As Alleycat kneels, Lord explodes across Alleycat's cheeks and into his open mouth. This facial can be described with a word that also described this film: epic.
It was seven years in the making, but the dicking Blake Riley, looking as hot as ever, gets from Henchmen (JJ Knight) quite possibly will last him until 2024.
Then Andre Donovan gave Barfly (Johnny V) a nuclear fuck in what is likely to be remebered as of the hottest gay porn scenes of the year.

And finally, Rogue (Skyy Knox) was rescued by Lucky (Brent Corrigan) from the clutches of evil in a scene that set a new bar for how hot a gay porn finale in the form of a toe-curling flip fuck can be.

[Watch Brent & Skyy in "Earthbound: Heaven To Hell 2" scene six at NakedSword]
And remember, it's not just what you know, but who. See all six scenes from "Earthbound: Heaven To Hell 2" along with over 24,000 scenes from 200+ studios at the NetFlix of Gay Porn for less than a five spot:

Only at The Sword, take advantage of the best gay porn deal on the web.
Tags: Andre Donovan, Andrew Stark, Arad Winwin, Armond Rizzo, Blake Riley, Chi Chi LaRue, Dean Monroe, Earthbound: Heaven to Hell 2, Falcon, Gabriel Alanzo, Johnny V, NakedSword, Sean Zavran, Trelino
← The original Gay Porn Blog! Gay porn news, porn star interviews, free hardcore videos, and the hottest gay porn on the web. home