Helix, Party Of Five: Your Creampies Are Ready
The you's with the sweet tooth are Wes Campbell, Sean Ford, Joey Mills, and Corbin Colby as Blake Mitchell leads this five-way that turns Helix into a bakery and likely you into a mess.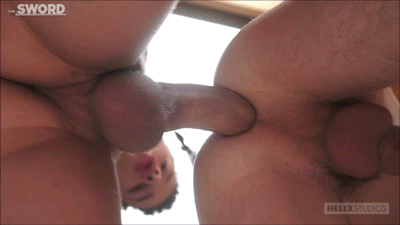 Even with so many poles and holes, we see everything.
Especially Blake's big raw dick in Corbin's golden glutes.
"They taste every forbidden desire AND one another – all natural, organic and RAW, winding up in an orgasmic puddle of absolute lust." In other words, Helix, party of five; your creampies are ready. And they cum out of the oven one right after another.
[Watch
Blake, Wes, Sean, Joey, and Corbin in "Breathe"
at Helix] [
Check out the full review and watch the trailer at The Sword
]
Tags: bareback, Blake Mitchell, Corbin Colby, creampies, Helix, Joey Mills, Sean Ford, Wes Campbell
← The original Gay Porn Blog! Gay porn news, porn star interviews, free hardcore videos, and the hottest gay porn on the web. home