Malcolm Tops It Off
"My boyfriend has been bugging me for a couple of years to do it, so I figured I'd give it a shot." ~Malcom.
Of course, "shot" is the operative. And Malcolm gives us two of those and a whole lot more.
It's not until the break between rounds we find out about his boyfriend. Right from the start, we can tell he's a handsome fuck with a tight, lithe body, toothpaste commercial smile, and a beauty of a cock.
Malcolm is 5'9″, 160, and that pretty dick measure in at 7.5″
When it comes to men, he likes to kiss and prefers a big, smooth ass.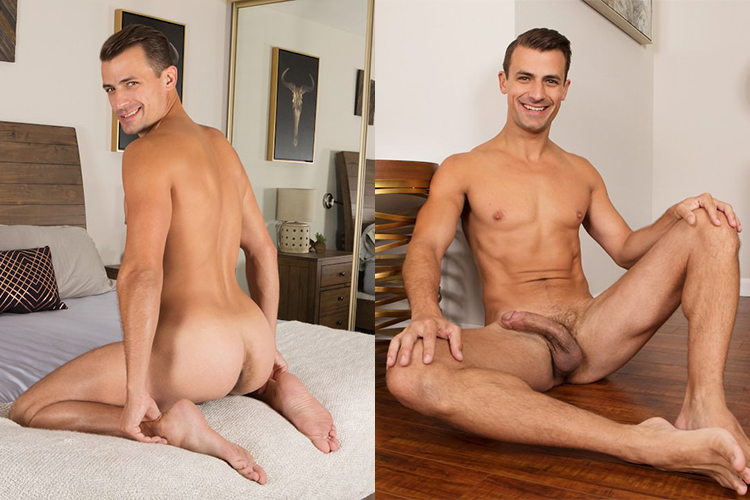 Unlike Deacon, who showcased his versatility in that history making scene with his boyfriend, Asher, and then shared Asher with Brysen, this is no Malcom in the middle. This Malcolm is all top. The only cock size that matters in a Malcolm encounter is his.
Which makes it a safe bet his other half is all bottom with a hairless hole.
Malcolm quickly overcame his nerves and after round one, he had reached a verdict, "I'm ready to keep going. I could do this all day, every day."
And his second load, framed in the doorway to the pool, really makes a splash.
Will he be back? Will we ever meet his man? Watch his video and keep watching this blog.
[Watch Malcolm at Sean Cody]
[
See the full review and watch the trailer at The Sword
]
Tags: sean cody, Sean Cody Malcolm
← The original Gay Porn Blog! Gay porn news, porn star interviews, free hardcore videos, and the hottest gay porn on the web. home