Gideon's First Gay Hardcore
We don't see Landon very often at Sean Cody. Gideon is new and this is his first hardcore scene. That combination doesn't sound on paper. But this isn't a library.
In the opening hummer, Landon's dick is mouth-wateringly big and Gideon makes a meal out of it. But as you watch it, you find yourself wishing almost anyone else was doing the sucking. We then move to reverse cowboy on the bed. That requires stamina, strength, and practice to be effective. Not a smart directorial choice for anyone's inaugural fuck position. And they stay there way too long.
Landon flips Gideon over and we're onto missionary. A little shy of pole in hole footage, but it works comparatively better. Gideon jacks out his first load on his abs. But when Landon pulls out, you can see he wasn't really hard. Gideon is all cleaned up by the time Landon shoots his load. Kiss and cut.
Round two begins with a standing hummer which once again, shows off the beauty of Landon's cock. We then move to standing doggie. Choppy edits fill the time but the brief undercarriage shot is really the only filling we see.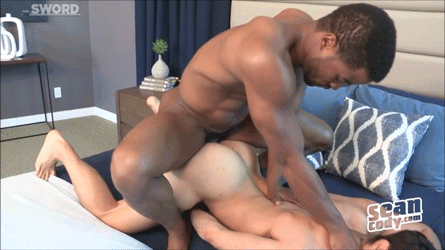 Doggie on the bed is next. Gideon does a good job serving up his ass but again, the small amount of pole in hole footage is pretty anemic. Landon pulls out and straddles Gideon. "I want you to cum on my face," sounds rather creepy coming from Gideon. Landon obliges, however, and ices Gideon's beard as Gideon strokes out his second, and hopefully last load on Sean Cody.
[Watch "Landon & Gideon: Bareback" at Sean Cody]
[
See the full review and watch the trailer at The Sword
]
Tags: bareback, sean cody, Sean Cody Gideon, Sean Cody Landon
← The original Gay Porn Blog! Gay porn news, porn star interviews, free hardcore videos, and the hottest gay porn on the web. home