Bring On The Men With Jason Vario & Michael Roman
By the time Jason Vario muscles his way in and out of Michael Roman's colosseum, you will see that ink is not the only thing Michael wears well.
Mickey Taylor and Brian Bonds taught us something last week. First, Mickey reaffirmed his chops as a top and together they made it clear there are better ways to spend the time between flights than staring at your phone.
In today's second scene from "The Layover" from NakedSword Originals, Jason Vario and Michael Roman offer a different lesson: how grown men fuck.
Jason and Michael both are dripping in that testosterone infused "bite your lip and grab your dick" kind of sexuality. By the end, Michael is dripping in something else. Michael is proof that fur and tattoos can co-exist. Jason Vario is sex on two legs with a bubble butt and beautiful, uncut honker of a dick. Both are making their NakedSword Originals debuts today. And they make the most of it. And each other.
Today, sky hoe Michael has a layover in Vegas and hits the jackpot in the parking lot: he runs into Jason. It's on from the minute their eyes meet. They race back to the hotel where the clothes come off and Michael is worshiping Jason's giant cock. Then Jason starts a meal at the hottest buffet on the Strip: Michael's hole. Jason should give lessons on how an ass should be eaten.
It's as if the camera wasn't there. The low, guttural moans from both men are both organic and orgasmic. Jason teases Michael's hole with his tongue and shaft until you can feel Michael's need to be taken. And taken hard.
And taken he is. Doggie, then side scissors, then missionary as Jason becomes the pleasure master.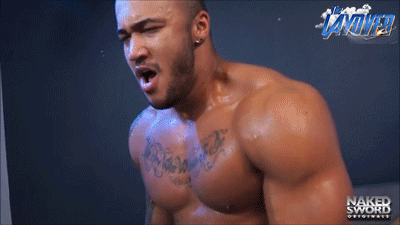 With Jason fucking like a charging bull, Michael explodes and sends his nut</a< all the way to top of his furry, inked pecs. Jason fires off his load, soaking Michael's face, beard, and neck. Jason shudders as Michael cleans off his knob then dives down to share the taste.
[Watch Michael & Jason in "Jackpot in Vegas" scene two from "The Layover" at NakedSword]


Speaking of sharing … I have something to share with you.

The chance to win $200 of free air travel from SouthWest on NakedSword's dime.




Tags: Jason Vario, Michael Roman, NakedSword Originals, The Layover
← The original Gay Porn Blog! Gay porn news, porn star interviews, free hardcore videos, and the hottest gay porn on the web. home